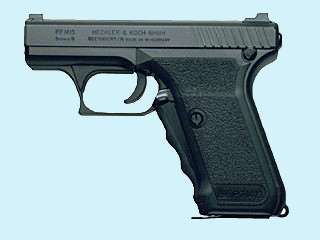 Heckler & Koch P7 Common Questions & Answers
---

Here are a few of the common questions and answers I get. This list will grow with time.

Let me start out with some IMPORTANT general advice:
Only used jacketed ammo, never use plain lead bullets. They will clog the gas port in the barrel.
If you want to have Tritium sights, do not remove the original sights and replace them with Tritium units. Instead, send your slide to Trijicon and have them install Tritium capsules in your current sights (they are designed to receive them). The front sight on your P7 may be one of 6 heights -- 6.4 mm, 6.6 mm, 6.8 mm, 7.2 mm, 7.4 mm, and 7.6 mm. The replacement sights come in only one height, and you'll never shoot straight again.
Do not scrape the deposits off of the gas piston, they do more good than harm.
Only clean the gas cylinder bore with the HK cleaning tool -- real reamers will ruin the gun.
Clean the cylinder once per year, or per 500 rounds sez the manual -- my personal advice is to never clean it, let it be.
Avoid CorBon ammo -- their soft brass, deeply seated bullets, and pressure curves often don't work well in fluted chambers.
Q: What do all those marks mean on the gun?
A: Look here.

Q: Why do some guns have a different colored slide? What are these "HK Rebuilt" guns?
A: The Perplexing Puzzle of the Partially Purple P7 Pistols.

Q: What is special about the rifling of the barrels on the HK P7?
A: Polygonal Rifling

Q: Why does my P7 get so hot during prolonged shooting?
A: Sorry, they just do, the gas cylinder gets very hot. This is why the P7 family (vs. the PSP) has a heat shield above the trigger.

Q: Where can I buy these guns? What do they cost?
A: First off, the endless supply of cheap ($500) used P7's is now (4/2007) gone again.

Did you check the Classified Ads here?

There are these ones with noticeably purple slides are guns from Germany that have been "remanufactured." They have to mill the old department name off the slide and then they refinish it in a non-original finish -- thus the purple color. Do not pay as much for these as a regular all-black new gun. Check any P7 to see if it has been refinished.

(2003) The P7M13 is no longer sold to the US public -- only law enforcement; the P7M10 is long out of production. So these two bring in higher prices. They did a run of the P7 PSP version not too long ago, so those don't bring the premium they used to.

The P7K3 guns are mainly collectors items, although they still are police issue in .32ACP in some countries. Have your wallet ready.

Check the usual places like gun shows, classified ads, etc. I recommend GunsAmerica for classified and Gunbroker.com for auctions. I just looked and they even had a replacement extended P13 barrel for sale, new in the factory wrapper. Last (12/2003) prices I saw, the lowest ones:
2003 Prices -- Obsolete
| | | |
| --- | --- | --- |
| Model | Used | New |
| PSP | $1000 | $1200 |
| P7 | $650 | ? |
| P7M8 | $650 | $1295 |
| P7M8 Reman. | $850 | $1000 |
| P7M10 | ? | $1700 |
| P7M13 | $1300 | $1700 |
| P7K3-.380 | ? | $1400 |
| P7K3-.32 | ? | $1400 |
| P7K3 Two Cal. Kit | ? | $1625 |
| P7K3 .32 Cal. Kit | ? | $425 |
If you do buy a P7M13, make sure of the magazine count, and pay way less for P7M10 marked magazines.

On any gun from anyone, be careful of old tritium sights!

Q: I still can't find anywhere to buy one, can you help?
A: No.

Q: Where can I buy the magazines?
A: I'd check with the usual magazine sources. CDNN Investments seems to always have some. You'll also see them at the usual web sites. Last time (12/2002) I looked the factory P7M8 was $43, the factory P7M10 was $77. Note: A whole lot of the P7M10 magazine's are being sold to suckers for $120+

Be certain to know if you are buying factory or after market magazines, new or used. The after market have never worked for me, and are made much more cheaply. Avoid them.

P7 and PSP mags do not fit P7M8's, and vice versa.

Q: Can I use P7M10 magazines in my P7M13?
A: Maybe -- see this link..

Q: Where can I get holsters?
A: Companies like GalcoUS.com have dropped them even thought they were stock product, and when I write they say they won't make them.

I am very happy with my Thumb Break Scabbard waistband holster from Desantis Holster. Unfortunately, they stopped making them as stock items and you now need to order 5 or 10 at a times. There is a guy on Ebay who does just this and sells them.

If you are new with holsters -- you will want one that uses belt loops, is custom formed for your gun, and has a snap over the end so it will never fall out on its own. Trust me. I have one that uses a serious, adjustable spring instead of a snap over the end, I think I might like it. But get that strap, get a holster that is attached to your belt, and you'll never dump your gun on the floor accidentally.

Q: Where can I get parts?
A: The gun is still in production, one source is HK. An excellent source is HKPartsOnline.com. None of the usual places like GunParts have them except for some odds and ends.

Q: What's this story about the New Jersey State Police and their P7M8's?
A: Click Here