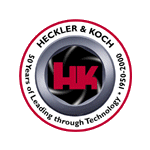 HK Polygonal Rifling
The HK P7 family has what is called Polygonal Rifling in all the barrels..

---
Ridge & Land Rifling
If you were to take a cross-section of a typical barrel it would look the the one on the left below:


Most barrels have been rifled with Ridge & Groove or Land and Groove rifling. Something is shoved down the barrel to cut grooves into the wall in a spiral pattern that will try to grab the bullet and make it spin as it travels down the barrel. Here are some examples:

These both look 50/50 in ratio, many cheaper barrels have very narrow grooves to save machining costs. Note the sharp corners everywhere. The bullet has to get really squished to to forced all the way into those grooves. Any space it doesn't flow into is a gas leak. And there is a tremendous amount of friction generated by the bullet sliding along the rifling. The barrel is also easily fouled by lead, and it's very hard to clean all those nooks and crannies.
---

Polygonal Rifling

If you were to take a cross-section of an HK P7 barrel it would look the the one on the right below: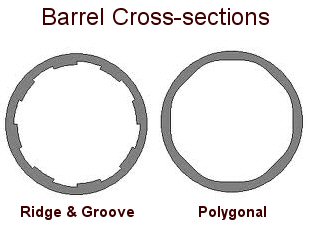 The hole in the barrel is not round, and the shape rotates down the length of the barrel. (These barrels are typically cold-hammer forged over a mandrel.) The shape lets the barrel grab hold of the bullet and spin it as it goes down the barrel. The gas seal is about perfect and the friction very low by comparison. Polygonal rifling varies, but the P7's version is completely smooth and mirror-like down the full length of the barrel. It's actually sort of like a twisted mirror inside and hard to take a photograph of. This is one try:


You can sort of see the actual barrel shape at the end of the chamber where it connects to the barrel. (The straight lines are grooves in the chamber walls.) Here is a non-P7 barrel, but I thought the shot was so beautiful I had to include it:



Needless to say, the polygonal rifling is also a breeze to clean, and doesn't lead up that much to start with.
Polygonal rifling has now become the "best" barrel for many guns, but HK was about alone when they introduced the P7 family.