The Heckler & Koch P7 Pistol Family -- Introduction
---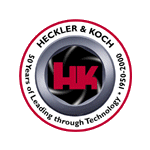 Just what is an H&K P7 Pistol, what makes it special (or at least different)? Let's start with who makes it -- Heckler & Koch, GmbH of Oberndorf, Germany. Established in the winter of 1949-1950, Heckler & Koch is celebrating its 50th anniversary in 2000. Much of what follows is from their literature.

Squeeze Cocking
The most unique feature is it's "squeeze cocking." The unique HK cocking lever allows the P7 to be carried safely with a round in the chamber, yet it is ready to fire by the intentional squeezing of the fingers around the grip. Releasing the cocking lever decocks the P7 immediately and renders it completely safe. The cocking lever also doubles as a slide release lever. (For more details see P7 Function.)

This innovative firing system means that HK P7 pistols have a constant uniform single-action trigger pull for all rounds fired. Unlike conventional double action pistols, there is no change in trigger pull between critical first and second shots. And P7 pistols are completely ambidextrous.

Gas System
The P7 gas system retards the movement of the recoiling slide during firing and eliminates the need for a conventional locking mechanism, heavy slide, or even a guide rod with recoil spring. The low profile slide contributes to the balanced center of gravity and compact size of the P7. With its fluted chamber, the P7 will extract and eject an empty shell even if the extractor is missing. The extractor, which doubles as a loaded chamber indicator, only aids in making extraction smooth and uniform.

For more information, see Pistol Action Types & the P7.

Construction and Design
The receiver and slide are made from forged high-grade case-hardened steel. The low profile slide keeps the recoiling mass as small as possible. A fixed, polygonal barrel made by cold hammer forging ensures accuracy and increased barrel life. Combined with the optimal grip angle of 110°, the result is a compact, accurate, and low recoil pistol well suited to civilian, military, and law enforcement users.

Variants
Three variants of the P7 pistol are currently (commonly) available. The P7M8 and P7PSP are 9mm models that use eight round magazines. Essentially the same as the P7M8, the P7PSP has a smaller trigger guard and European-style magazine release in the bottom of the frame. The P7M13 is similar to the P7M8, but uses a thirteen round magazine. The P7M13 is currently available only to law enforcement and military users.

Feature Summary
Polygon bore profile (no rifling grooves)
Fixed Barrel
Excellent ergonomic design
Compactness and smooth external surfaces
Highly suitable for concealed carrying
Rapid aiming thanks to close proximity of sighting line and upper edge of the hand
High durability and robustness
High accuracy fire provided by constant low trigger pressure, right from the first shot
Completely identical handling from left and right, therefore suitable for both left- and right-handed shooters
Squeeze cocking system
Hardened steel grip frame
Lifetime warranty for the original retail purchaser.
Chris's Viewpoints
What do I (Chris, your website host) think of all this?

Well, to start, you won't find too many pistols as easy to use, and very few as safe to use. This "squeeze-cocker" is the pistol I have the most confidence in handling, the one least likely to discharge during carry or handling, the one most likely to fire when asked to.

It is a very compact pistol, the slide is almost tiny due to the gas system and the lack of any guide rod and spring.

It is very accurate with the polygon bore instead of rifling grooves, and because the barrel is rigidly fixed to the frame.

It comes apart without tools and in seconds -- you can even remove the firing pin assembly from the slide by hand.

It has a loaded chamber indicator, a must on any gun I own.

Some people claim to have seen hundreds of thousands of rounds fired without a single malfunction, and while I've seen a jam or two, it is also likely the most reliably functioning auto pistol on the planet.

Don't think bigger is always better -- the P7M8 is much nicer than the P7M13. It fits better in my hand, and conceals very nicely -- the M13 doesn't. The same cautions apply to the P7M10.

Downsides? The heat guard above the trigger added to the M8 and following models is there for a reason -- the gas system gets hot!. Some people shoot them so hard they still get a burnt finger. And while holsters are available, very few aftermarket parts will be found..